Feelings with Healthy Minds Event
Fundamental Minds
More than 1,400 construction workers in the UK took their own lives between 2011 and 2015 with numbers steadily increasing year on year. Of the 13,232 in-work suicides documented by the Office for National Statistics, those within the skilled construction and building trades made up 13.2%. This is despite construction accounting for little over 7% of the UK workforce. Breaking these figures down it shows there were 1,050 suicides among those working in construction and building trades, 357 within the building finishing trades and 12 by those employed as construction and building trades supervisors.
With this is in mind, the SCF decided to take the lead in the industry and provide support for their supply chain working on their projects. Working alongside Fundamental Life, they held a thought provoking workshop offering skills that may help with stress and wellbeing for themselves or those that they work with.
One of the major challenges for anyone working in the construction industry, is its naturally transient and uncertain nature. This factor is arguably one of the main causes of the high levels of stress experienced by many of those bold enough to take on any role in such a challenging sector. Being unable to financially support ourselves and families can create a huge sense of inadequacy and low self-worth, particularly with men. Social conditioning and tradition dictates that men need to 'bring home the bacon'.
Current models to address this huge issue continue to ignite conversation, encouraging people to open up and share what they are truly feeling. This is very helpful in exposing the extent of the challenge for the individual, the construction industry and indeed a large proportion of society. Conversation is a great first step to the journey of recovery and relief from any sustained inner suffering from mental health issues. However this is not the 'be all and end all' remedy to this growing epidemic, with recent evidence showing that it comes with its own set of challenges.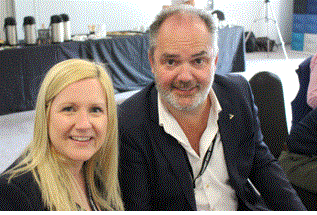 Well-meaning and caring work-mates with just two days training, diagnosing and labelling people and then pointing them at already overstretched resources is creating unprecedented pressure on NHS and 3rd sector services whilst impacting the caring individuals who are trying to keep a under resourced ship afloat. On top of this we see that many people will not take off just one hour to see a dentist, let alone leave the work place for six weekly sessions of counselling, that they may have already waited 3 months for.
Empowering people to take responsibility for their own 'mental health' is a tough job. Imposing that responsibility on employers is simply not workable. Most business owners and managers have enough on their hands. Loss of skills and labour onsite in itself can create massive head-aches for those accountable for ensuring the job gets done on time
'Buddy's to remain in contact for support
and budget. That said it is the responsibility of employers and management to ensure that working environments feel safe, secure and free from toxic behaviours such as bullying, mindless banter, oppressive leadership and pressure from unrealistic time frames.
All of which can and do, create and compound stress, anxiety and low self-worth in even the most strongest and confident presenting people.
Of course, we understand that there are those that require specialist care and there maybe times when we need specialist services. There will be times for some, when it is important to reach out and ask for help. However, there is a lot we can do ourselves to look after our own mental health, to prevent a crisis happening.
The vast majority of us, armed with the right information, guidance and tools are able to make a positive impact on our own sense of inner wellbeing. Understanding the fundamentals of what makes us tick is key to instigating the necessary changes in life styles, thinking and beliefs that will change how we feel. The Fundamental Life team come from a place of life experience and understand the challenges we all face from the 'old school' thinking that everything and everyone else is to blame for how we feel. This old belief system disempowers us and leaves us at the mercy of others often well-meaning, ideas and motives.
When we take full responsibility for our thoughts and actions we are taking back control of our mental health and indeed our lives. This enables us to make better and healthier choices that will serve us and those around us for a more fulfilled and happier life experience. It is also very empowering and reassuring to truly understand that 'It is OK to not be OK'. Grasping the old belief that feeling sad, anxious or depressed are problems to be solved only compounds the unwanted sensations making us feel worse. Being 'OK with not being OK' is the first step to being OK!
Fundamental Life is committed to this approach and continues to see profound changes in many of those who experience their workshops.
For any true change to happen… something that once seemed true has to change!